Maintenance Tasks for a Metal Roof
Metal roofs are a popular choice for homeowners due to their durability, energy efficiency, and low maintenance requirements. However, like any roofing material, metal roofs still require regular maintenance to ensure they last for their expected lifespan. In this blog post, we'll discuss the essential maintenance tasks you should perform to keep your metal roof in excellent condition.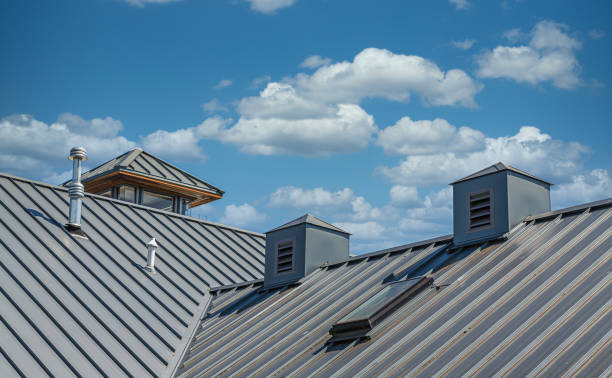 Cleaning your metal roof is one of the most important maintenance tasks you should perform. Over time, debris, dirt, and other pollutants can accumulate on your roof, leading to damage and corrosion. It's best to clean your metal roof twice a year, in the spring and fall, to remove any buildup and keep it in good condition. 
When cleaning your metal roof, it's essential to use the right tools and techniques. Avoid using harsh chemicals or abrasive materials that can damage the roof's protective coating. Instead, use a soft-bristled brush or a pressure washer with low pressure to remove any dirt and debris gently. 
Regular inspections are critical to detecting and addressing any issues with your metal roof before they become more severe. Inspect your roof at least twice a year, in the spring and fall, to check for any signs of damage, such as cracks, dents, or corrosion. 
You should also inspect the roof after severe weather events, such as hailstorms or high winds, as these can cause damage to metal roofs. If you notice any damage during an inspection, it's best to contact a professional roofing contractor to address the issue promptly. 
Trim Trees and Clear Debris

 
Trees that are too close to your metal roof can cause damage, especially during high winds. Overhanging branches can scratch or dent the roof, and falling leaves and branches can clog gutters, leading to water damage. 
Trimming trees around your home and clearing any debris that accumulates on your roof can help prevent these issues. Regularly cleaning gutters can also help prevent clogs and water damage to your roof. 
Most metal roofs have a protective coating that helps prevent rust and corrosion. Over time, this coating can wear off, leaving your roof vulnerable to damage. Regular maintenance of the coating can help prolong the life of your metal roof. 
The frequency of maintenance of the coating will depend on the type of coating your roof has. Some coatings require maintenance every three to five years, while others can last up to 15 years. Consult with a professional roofing contractor to determine the appropriate maintenance schedule for your metal roof coating. 
Final Thoughts 
Metal roofs are an excellent investment for homeowners due to their durability, energy efficiency, and low maintenance requirements. By performing regular maintenance tasks such as cleaning, inspecting, trimming trees, and maintaining the coating, you can prolong the lifespan of your metal roof and keep it in excellent condition. Contact a professional roofing contractor if you notice any signs of damage or need help with maintenance tasks.